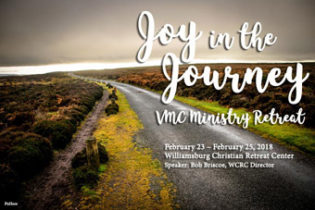 Credentialed leaders and their spouses are invited to a weekend VMC Ministry Retreat. There will be activities and input from Bob Briscoe, WCRC Director.
The theme of the weekend is "Joy in the Journey: A Focus on Re-creation." The location is the Williamsburg Christian Retreat Center, 9275 Barnes Road, Toano, Va.
Room check-in will be from 4:00 – 6:30 p.m. on Friday. (Dinner on your own.) The first session will begin at 7:00 p.m.